Paroles Fashion de Lady GaGa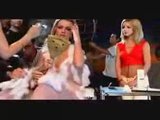 Les chansons similaires
RedOne HEIDI Ohhh ohhh La la la We love designer I am, I'm too fabu-lous I'm so fierce that it's so nuts I live, to be model thin Dress me, I'm you're manne-quin (eh eh) J'adore Vivienne I really want....
Fashion girl, got new clothes fashion girl, just change for the same fashion girl, dont care about anything fashion girl, just looking for fame fashion girl, look like shit fashion girl, following...
Ahh... Disco and kitch is out Electro and glitch is in Saving the planet is out Being very rich is in again Haute couture is out Torture is very in Glamour and Dior is out Going to war is in again...
I can't curb my sex emotions I don't want no sexy motions I need sweet concussions I need satisfaction Sex is fashion to me Sex is fashion, so let's get naughty! Sex is fashion! Punchy, catchy...
I know a girl and she's so dull Her friends say I'm cynical But look in her brain and you will find Underneath the dust and flu Not a lot but trash And shopping and fashion Shopping and fashion Shopping...
Textes et Paroles de Fashion



Oh oh
La la la
I am, I'm too fabulous
I'm so, fierce that it's so nuts
I live, to be model thin
Dress me, I'm your mannequin

j'adore vivienne habillez-moi
Gucci, Fendi et Prada.
valentino, Armani too.
Merde I love them Jimmy Choo

Fashion put it all on me
Don't you want to see these clothes on me
Fashion put it all on me
I am anyone you want me to be [2x]

Oh oh
La la la
We love designer

I need, some new stilettos
Can't walk, down the street in those
You are, who you wear it's true
A girl's just as hot as the shoes she choose

J'adore Weitzman, habillez-moi
Louis, Dolce Gabbana, Alexander McQueen, eh ou.
Merde I love those Manolo

Fashion put it all on me
Don't you want to see these clothes on me
Fashion put it all on me
I am anyone you want me to be [2x]

Oh oh
La la la
We love designer
Oh oh
La la la
We love designer

Fashion put it all on me
Don't you want to see these clothes on me
Fashion put it all on me
I am anyone you want me to be
Fashion put it all on me
Don't you want to see these clothes on me
Fashion put it all on me
I am anyone you want me to be

Fashion put it all on me
Don't you want to see these clothes on me
Fashion put it all on me
I am anyone you want me to be
Fashion put it all on me
Don't you want to see these clothes on me
Fashion put it all on me
I am anyone you want me to be


Retrouvez-nous sur Facebook :
N'hésitez pas à faire une recherche de paroles d'une chanson dont vous ne connaissez qu'un morceau de texte avec notre
moteur de paroles et chansons