Paroles Swingin' Doors de Martina McBride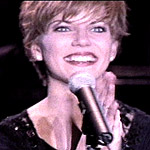 Les chansons similaires
If you're leavin' Don't look back Leave me like you mean it I know you're angry when you won't talk back It's hard to take you serious when you act like that It's not the first time we've run this...
I know you see me you always did As you close your eyes you make me fade Do you ever wonder if I sleep at night If I sit in silence or think you're right I can not share your feelings Your feelings of belonging Never...
you've been so close to me closer than i ever thought you would and you were there for me when no one else was there to dry my tears but i, i never took my time for you 'cause i always had so much to do oh,...
Nothing is moving, all the world is still No birds are singing and they never will Cause you're leaving No doors are open, the sun doesn't smile There's no sign of laughter, it rains all the while And...
You can say your comin' back You can say your leavin' Wish that you would let me know So I could stop my grievin' And if the road come back to haunt me Am I gone and I do not know If the sky come...
Textes et Paroles de Swingin' Doors



You have worn a path
Right up to my heart
You come in for a while but you don't stay
And I've come to realize
That your promises are lies
To buy you time when you want to get away

You must think my heart has swingin' doors
The way that you keep comin' back and forth
I can feel it's getting close to closing time
And I won't be leavin' my heart open any more

Well, I've heard you're back in town
I suppose you'll come around
When nights are cold and friends are hard to find
You always seem to wait
'Til all the pieces are in place
Then you walk back in and rearrange my life

You must think my heart has swingin' doors
The way that you keep comin' back and forth
I can feel it's getting close to closing time
And I won't be leavin' my heart open any more

So if you're walking down my street just keep on walking by
I'm hangin' out a sign sayin' this well has run dry

You must think my heart has swingin' doors
The way that you keep comin' back and forth
I can feel it's getting close to closing time
And I won't be leavin' my heart open any more




Retrouvez-nous sur Facebook :

Autres paroles de Martina McBride :
N'hésitez pas à faire une recherche de paroles d'une chanson dont vous ne connaissez qu'un morceau de texte avec notre
moteur de paroles et chansons