Paroles Satan's Fall de Mercyful Fate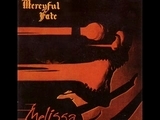 Les chansons similaires
Satan's Fall They're walking by the night The moon has frozen blue Long black coats a shelter for the rain Their load must get through Now bats are leaving their trees They're joining the call Seven satanic...
How'd I arrive in a place like this? Red [?] right hand as the alligator kiss. My head is [handshake's?] white And my face is green But my feet are still moving if you know what I mean Satan, Satan,...
We are serving Satan Everything is for Satan Eternal warlord Satan We cannot die with Satan The world is killed by Satan Habitus Nekromaur through Satan Might of Hell is from Satan Battling against jesus...
Devil, Satan, Satan Devil, Satan, Satan Brings jackals death The end of flowing years Prayers for souls bathed in blood Devil, Satan, Satan His idea drills a head, your head Satan, Satan To die or live...
[Music and Lyrics: Nattefrost (2004)] Satan is the only power Satan is universal might Satan is infernal knowledge Satan is eternal sin!!!!!! Satan is my guiding light Satan is global genocide Satan...
Textes et Paroles de Satan's Fall



[SOLO: HANK]

They're walking by the night
The Moon has frozen blue
Long black coats a shelter for the rain
Their load must get through

Now bats are leaving their trees
They're joining the call
Seven Satanic Hell Preachers
Heading for the hall

Bringing a blood of a newborn child
Got to succeed, if not it's Satan's fall

Home...come home
Evil messengers with blood stained wings
Home...come home
Home...come home

Is it Satan's fall?
No...it's Satan's call
Craniums high on stakes
It's Satan's epigraph
Something new can't erase...666
They call him the beast

[SOLO: MICHAEL]

Use your demon eyes, uncover the disguise
Time is out...Yeah, I don't need your God
On the law of Satan
Pray and obey it forever
Oh the law of Satan

[SOLO: HANK & MICHAEL]


Retrouvez-nous sur Facebook :

Autres paroles de Mercyful Fate :
N'hésitez pas à faire une recherche de paroles d'une chanson dont vous ne connaissez qu'un morceau de texte avec notre
moteur de paroles et chansons