Paroles Hideaway de Todd Rundgren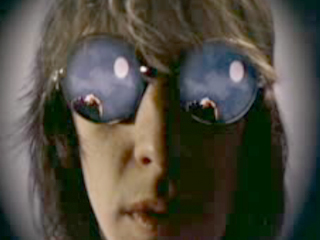 Les chansons similaires
I'm so in love with you No matter what you do They won't be happy til we say that we're through So I won't let them know No I won't let you go I'll never let them get between me and you (No no no no) Never...
I need to touch a live unbeaten earth so that's where i'm going I know a town in N.W. Mexico where the sun is gold and life exists hideaway hideaway truly hideaway hideaway truly My country got raped...
Howdy, friend, begging your pardon, Is there something on your mind? You've gone and sold all your belongings, Is that something in your eye? Well, I know you really never Liked the way it all goes down; Go...
Comes with the feeling of being left Is the feeling of hate And the sickening sense you can't make it By yourself Losers haven is the place I'm staying Could be lovers but I would be paying All Our feelings...
don't hideaway, hideaway from your imagery don't hideaway, hideaway from all your daydreams (or your nightmares) what is to fear when surrounded in apathy when putting down words is just like pulling...
Textes et Paroles de Hideaway


I've been watching how you dance
Watching how you smile
Watching how you carry yourself around in a crowd
And watching what you say
You've got something that's a secret to the average eye
You've been saving something nobody's seen until now
In a hideaway
I'm not trying to invade your privacy
There are things you have a right to hide
But it's oh so cold
Standing on the outside

Will you take me to your secret hideaway
I won't tell nobody where I'm going
Won't you tell me that we're leaving right away
For the heart of your hideaway

Everybody's looking for a heaven on earth
A slice of paradise where nobody gets hurt
Someone to put the pieces back together again
When your daydreams die
Are you trying to get a message through the air to me?

Get me on your wavelength and tell me which way to go
To your hideaway
I can't stand another second in this tinker-toy world
Give me your direction
Don't make me wait anymore
It seems so far away

You can trust me with your secret fantasy
You will never know until you've tried
But it's oh so cold
Standing on the outside

I've been trying to get a message
Through the air to you
Get on my wavelength
And I'll tell you which way to go
To my hideaway

I will show you to my secret hideaway
We will tell nobody where we're going


Retrouvez-nous sur Facebook :

Autres paroles de Todd Rundgren :
N'hésitez pas à faire une recherche de paroles d'une chanson dont vous ne connaissez qu'un morceau de texte avec notre
moteur de paroles et chansons