Paroles Better Get To Livin' de Dolly Parton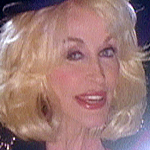 Les chansons similaires
I just don't like this kind of livin' I'm tired of doin' all the givin' I give my all and sit and yearn and get no lovin' in return And I just don't like this kind of livin' Why do we stay together if we always...
My love was in a storm The bitter wind was blowin' around me I'd sit and cry but By and by it just faded away Rainbow, painted skies, Brought a smile into my eyes The scent of flowers filled the air I...
Livin' In Hope I grew up in the country Beside a chicken shack So I left for the city And I didn't look back Now, I'm livin' in hope (livin' in hope) Livin' in hope (livin' in hope) Yes,...
Start me up Start me up Tommy used to work on the docks Union's been on strike He's down on his luck...it's tough, so tough We've got to hold on ready or not You live for the fight when it's...
I should have seen the signs you showed me So many times, in so many ways On a never ending journey through the cold light of day Cold light of day I spent nearly all my time Thinking I know...
Textes et Paroles de Better Get To Livin'



People always comin' up to me and askin'
"Dolly, what's your secret?
With all you do, your attitude
Just seems to be so good
How do you keep it?"
Well, I'm not the Dalai Lama, but I'll try
To offer up a few words of advice.

You better get to livin', givin'
Don't forget to throw in a little forgivin'
And lovin' on the way
You better get to knowin', showin'
A little bit more concerned about where you're goin'
Just a word unto the wise
You better get to livin'.

A girlfriend came to my house
Started cryin' on my shoulder Sunday evening
She was spinnin' such a sad tale
I could not believe the yarn that she was weavin'
So negative the words she had to say
I said if I had a violin I'd play.

I said you'd better get to livin', givin'
Be willing and forgivin'
Cause all healing has to start with you
You better stop whining, pining
Get your dreams in line
And then just shine, design, refine
Until they come true
And you better get to livin'.

Your life's a wreck, your house is mess
And your wardrobe way outdated
All your plans just keep on falling through
Overweight and under paid, under appreciated
I'm no guru, but I'll tell you
This I know is true.

You better get to livin', givin'
A little more thought about bein'
A little more willin' to make a better way
Don't sweat the small stuff
Keep your chin up
Just hang tough
And if it gets too rough
Fall on your knees and pray
And do that everyday
Then you'll get to livin'.

The day we're born we start to die
Don't waste one minute of this life
Get to livin'
Share your dreams and share your laughter
Make some points for the great hereafter.

Better start carin'
Better start sharin'
Better start tryin'
Better start smiling
And you better get to livin'...


Retrouvez-nous sur Facebook :

Autres paroles de Dolly Parton :
N'hésitez pas à faire une recherche de paroles d'une chanson dont vous ne connaissez qu'un morceau de texte avec notre
moteur de paroles et chansons