Paroles Concrete Angel de Martina McBride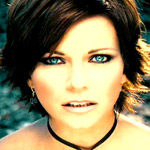 Les chansons similaires
She walks to school with the luch she packed, no body knows, what she holding back, wearing the same dress she wore yesterday, she hides the bruises with the linen and lace. The teacher wonders but she dosnt...
Angel - put sad wings around me now Protect me from this world of sin So that we can rise again Oh angel - we can find our way somehow Escaping from the world we're in To a place where we began And...
I'm a restless girl That's right And I'm gonna be free 'til the day I die I can't hang around This one-horse town I want to fly like an eagle flies And I won't give up 'Cause I've gone too far I'm gonna...
(with Jann Arden) [Olivia Newton-John:] I know it's been a long time now; you've been hanging at the end of your rope. [Jann Arden:] I know that you've been strong somehow, but now you're down to your...
Sweet Dreams Go to sleep my babies Don't you wake up The stars will keep you company So close your eyes Old Uncle Moon will shine his dearest sweetest dreams And hold you in your arms Until the morning...
Textes et Paroles de Concrete Angel



She walks to school with the lunch she packed
Nobody knows what she's holdin' back
Wearin' the same dress she wore yesterday
She hides the bruises with linen and lace

The teacher wonders but she doesn't ask
It's hard to see the pain behind the mask
Bearing the burden of a secret storm
Sometimes she wishes she was never born

Through the wind and the rain
She stands hard as a stone
In a world that she can't rise above
But her dreams give her wings
And she flies to a place where she's loved
Concrete angel

Somebody cries in the middle of the night
The neighbors hear, but they turn out the lights
A fragile soul caught in the hands of fate
When morning comes it'll be too late

Through the wind and the rain
She stands hard as a stone
In a world that she can't rise above
But her dreams give her wings
And she flies to a place where she's loved
Concrete angel

A statue stands in a shaded place
An angel girl with an upturned face
A name is written on a polished rock
A broken heart that the world forgot

Through the wind and the rain
She stands hard as a stone
In a world that she can't rise above
But her dreams give her wings
And she flies to a place where she's loved
Concrete angel


Retrouvez-nous sur Facebook :

Autres paroles de Martina McBride :
N'hésitez pas à faire une recherche de paroles d'une chanson dont vous ne connaissez qu'un morceau de texte avec notre
moteur de paroles et chansons